MOFI5500-5GXeLTE Download/Firmware Update Section for EM7411, EM7411-DUAL, EM7455, EM7690, EM9191, RM502:
If you want to see a video on how to do the firmware update, you can look at it here:
https://www.youtube.com/watch?v=7g8SGYDNVbw&t=4s
Here are some videos that may help you understand the set up better
MOFI5500 Video on how to put the sim card in: https://youtu.be/7uyswCo__JA
MOFI5500 wifi recovery https://youtu.be/-OaSku6VSPk
How to set a wifi password using the Wizard https://youtu.be/jevcVD5t0G8
MOFI4500 General Trouble Shooting Tutorial https://youtu.be/KPqpnsHaPA0
Setting up mofi cloudlink on MOFI4500 router (same process on the 5500) https://youtu.be/4GRIaeSjCOM
Change Admin Password https://youtu.be/C12QdtE9Sls
Manual Flash Firmware https://youtu.be/7g8SGYDNVbw
MOFI4500 4GXeLTE SIM4 Band lock https://youtu.be/nRHgs_w_R0w
The current user manual is located here:
https://mofinetwork.com/files/MOFI5500_User_ManualRev1_0.pdf
If for some reason your router does not boot up properly , you can use the recovery option to get it back up.
If you need to do a recovery, please ensure that you are using the correct firmware as if it, it can damage the router
You can do a recovery to get the router back up
Please save the latest firmware to your pc as well as the latest firmware on the page below to your
Here is a video on how to do the Wifi Recovery on the MOFI5500 https://youtu.be/-OaSku6VSPk
To do the recovery on the MOFI5500 router, please follow these steps
https://mofinetwork.com/files/MOFI_RECOVERY_for_MOFI5500.pdf
Here is the recovery file for the 5500 if you need to do the boot recovery
https://mofinetwork.com/firmware/MOFI5500/MOFI5500_RECOVERY.bin
———————————————————————————————————————–
Here is the latest official firmware for the MOFI5500-5GXeLTE
Firmware 4.8.6std
Date Released: Sept 12 2023
https://mofinetwork.com/firmware/MOFI5500/MOFI5500_v4_8_6std.bin
MD5: 42833aad6417d96cd105581814aaaf46
Change logs:
– 4.8.6 Add button to fix control port issues
– 4.8.5 Fixed Wireless Repeater and Fail Over to Cellular
– 4.8.4 Updated reconnection using webcheck instead of ping method as we seen some providers are disconnecting when using pings
– 4.8.3 Added a reboot after a facotry default automatically to make sure module comes up fine
– 4.8.2 Added the option to do a manual module update on the 5500-RM520 model which is new
– 4.8.1 Repeater Mode will Restore the last WiFi config when it is Disabled
– 4.8.1 Fixed NordVPN failed in full tunnel mode issue
– 4.8.1 Fixed OpenVPN Server issue when not using a username/password config
– 4.8.0 Updated Signal Strength Display for the 5500-RM520
– 4.8.0 Updated IMEI Restore on the 5500-RM520 so does not revert after a factory default
– 4.7.6 Incuded support for the MOFI5500-5GXeLTE-RM520 4G/LTE/5G model
– 4.7.1 Fix Error in Advanced Section for File Sharing
– 4.6.7 Added Module Speed Boost option that allows faster module cellular speeds (under Mofi Internal Modem --> Module Speed Booster)
– 4.6.7 Added MOFI to MOFI Wireguard VPN (can connect your router to a MOFI with a public IP to share your network anywhere fast)
– 4.6.4 Added support for zerotier under VPN Services (used to gain access to your router's interface when outside your network for free)
– 4.6.4 Fix issue setting to LTE only when using module firmware 3.10.07
– 4.6.2 Fixed remote update backup/restore issue.
– 4.6.0 Fixed issue with band scan on the EM7411 version
– 4.5.2 Fixed Backup/Restore Option for Restoring Backup Files when manually updating firmware
– 4.5.0 Fixed Android USB Tethering Issue
– 4.4.9 Update reconnection script
– 4.4.8 Fix Mofi Family Shield (blocks porn and bad sites automaticall) where it would not disable after it was enabled
– 4.4.8 Fix Wireguard Issue when setting up on your own server
– 4.4.7 Fix Menu System
– 4.4.7 Added Clone MAC to wireless Repeater Mode
– 4.4.6 5G Forced Mode set between 5G Standalone and 5G NON-Standalone (LTE Assisted)
– 4.4.6 Signal Strength for5G Fixed
– 4.4.6 Updated Web Blocker and Ad Block Remover to make it easier to use
– 4.4.6 Update some IPV6 settings and now can enable this easier from the Mofi Internal Modem Page
– 4.4.6 Fix IP Pass-Through Potential Issue so make it more robust
– 4.4.4 Updated Block By MAC Filtering where you can automatially block your kids from the internet during selected time duration like bed time.
– 4.4.4 Reduce Pings to save on "'wasted" data use
– 4.4.4 Fix Wireless Repeater Issue
– 4.4.1 Added Public IP Super Fast MOFI Cloud Wireguard WG5 server to Cloudlink
– 4.4.1 Updated Signal Strength Page to Include a LTE, 5GNSA, 5GSA Mode Icon
– 4.4.1 Add Cell tower ID to signal Strength page
– 4.4.1 Fixed Express VPN Bug
– 4.4.1 Added link to Internet Usage Status Page to Main Login Page (no need to log into to check usage)
– 4.4.1 Added MAC White List and Changed GUI to Wifi Scheduler Adv (can now default block all for better parental control)
– 4.4.0 Added New MOFI CLOUD WG4-PUBLIC WireGuard Public IP Server (very fast)
– 4.3.9 Added Button to clear logs when permanent logging is turn on (so it does not full up memory if logs keeps saving)
– 4.3.7 Added Proton VPN Support under VPN Services
– 4.3.7 Fixed issue where Description from ACS won't save under Certain Conditions
– 4.3.7 Updated ISP TTL FIX for Wireguard to set what the router is set to
– 4.3.7 Fix bug where Wireguard was still setting routes even when disabled
– 4.3.4 Fix time issue when scheduling to power off module as there was a bug when setting in hours
– 4.3.3 Move the free MOFI Wireguard under VPN Servers
– 4.3.2 Fixed Issue with Wireless Repeater not working with SSID with spaces
– 4.3.2 Added new Wireguard 3 servers
– 4.3.2 Added option to power off module every x time for issues with ATT cusomers
– 4.3.2 Updated iPhone USB Tethering Drivers
– 4.2.7 Fixed Usage Page Not Showing up after 4.2.1
– 4.2.7 Fixed OpenVPN Server Bug
– 4.2.5 Fixed Fail Over bug created in earlier firmware
– 4.2.3 Fixed EM7411 Dual to show up in correct mode
– 4.2.1 Fixed Issue with IMEI not showing up when SIM card not in router
– 4.2.1 Corrected MTU and Mac-address Saving Issue
– 4.2.1 Added hidden WiFi Option
– 4.2.1 Fixed EM7411 to force to MBIM for new module release
– 4.2.1 AT&T 5G APN in Drop Down List
– 4.1.9 Fixed Display issue for some 5G bands
– 4.1.8 Fixed Issue with signal on 5G not displaying properly for the 5500-EM9191
– 4.1.7 Fixed Samba File Sharing Issue
– 4.1.7 Added Speedtest to System for customer not using the cellular module
– 4.1.7 Change wizard to wait to ensure all changes are made before it reboots
– 4.1.5 Fixed Issue where reconnection scripts was getting deleted
– 4.1.5 Fixed Android USB Tethering to auto start
– 4.1.5 Replaced TimeServices with Alternative programs
– 4.1.4 Added ability to change WAN port to a LAN and a LAN to a WAN port
– 4.1.3 Added openvpn udp/tcp to firewall
– 4.1.3 ACS SSH can now be activated from gui and it will make a reversed shell back to router to access command line.
– 4.1.2 Reset Button can now be disabled under modtweak GUI
– 4.1.2 Corrected OpenVPN GUI for new tool
– 4.1.2 Added Network Shares (SAMBA) and filesystem added NTFS/FAT
– 4.1.2 Fixed Speed Band Lock Interface where it could skip a band without waiting long enought
– 4.1.2 Updated module flasher option if you want to upgrade module firmware
– 4.1 Fixed Fail over with IPV6 issue
– 4.1 Support including for VPN services (PureVpn, Surfshark, ExpressVPN, IPVanish, NordVPN, Cyberghost VPN, PIA VPN, Wireguard)
– 4.1 Updated many router tools for software
– 4.0 This firmware is based on Linux Kernel 4.4.302
NOTE IT IS HIGHLY RECOMMENDED TO DO A FACTORY DEFAULT AFTER YOU UPDATE THE FIRWMARE
To install, save this firmware to your pc
Log into the router,
Go to system then manually flash firmware
The checksum will be: 42833aad6417d96cd105581814aaaf46
Once confirm, apply and perform the update.
The process will take only a few mins (5 mins max)
You can watch the power LED as it will go off and the router will reboot.
When you see the power LED go solid, it is completed and you can connect back to the wifi and log back in
If you miss it, just close the browser and open back up again and go to
http://192.168.10.1 and it should be updated
After this is installed,
You should do a factory default after the firmware has been updated
You can do this 2 ways,
If you can get into the gui, log into it
Go to System then Factory Default
Then click on Perform Reset
If you cannot get into the router after the update, you can do a Hard Reset
To do this, power off and on the router
When the power LED is solid, hold the reset at the back of the router down for 10 seconds and then release
This will reset it and you should be able to get in
After the router is back up
The router is now updated, to check what firmware you are on, click on Status then Overview
If you need to change your APN, best way is to run the wizard located on the top right
If you are having issues getting online, please confirm that the apn (access point name) is correct that you are using
Also suggest to try isp ttl 64, 65 and 117
These are located under Mofi Internal Modem then click on the Configuration tab
——————————————————————————————————————————————————————————-
Module Firmware Update for the 5500- EM7690 and 5500-EM9191
Date: March 06 2023
Below is how to update the cellular module on the EM7690/EM9191

Suggest to run this update on router firmware 4.6.2std or later
This will update your module tofirmware 03.10.07 on the EM7690/EM9191 Cellular Module
To update the module firmware on the Sierra EM7690/EM9191, save the file below
To manually update the EM7690/EM9191 to latest module update, download and save this file to your pc (do not unzip or open this, just save to your pc)

https://mofinetwork.com/firmware/7690_9191_module/EM7690_EM9191_03.10.07.00.tar.gz (CLICK HERE to Save this)
Once this is saved
Take the SIM CARD out of the router.It is very important to do this step before you do the module update
Then log into the router, go to system then Internal Module #1 Flasher then click on the tab to manually update the module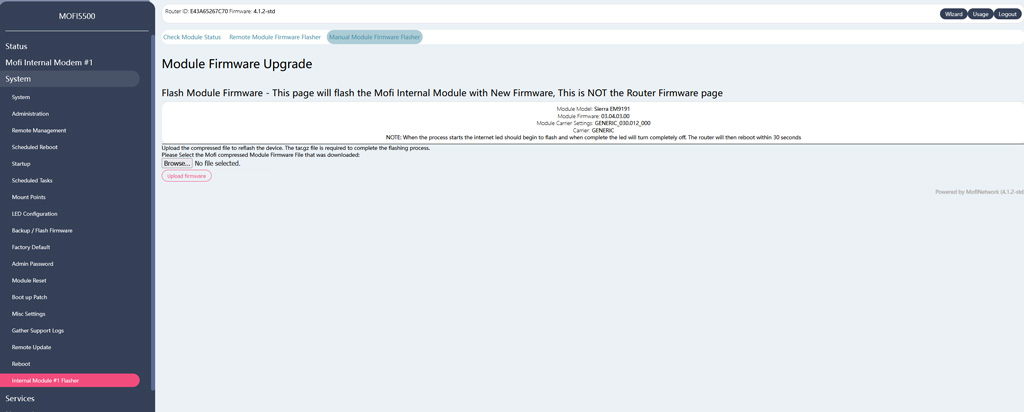 Click on browse to select the module firmware that was saved and then click on Upload Firmware to Start
You will get a message that will display the checksum 99d61327b2b72f5edf04cd9fd756ba3c

The firmware update will take about 10 mins (ensure you do not reboot the router until this is completed)
If the updates fail, first, make sure the sim card is out the router
Then do a factory default under system then factory default
Then
try it again and make sure the check sum matches 99d61327b2b72f5edf04cd9fd756ba3c
After the module firmware has been completed, you can go back to the #1 module flasher and confirm you are on 03.10.07
Once that is confirmed, you need to reset the module by going to mofi internal modem
Then click on the configuration tab
Then on the bottom of that page, press the button to reset the module
Once that is up, your router should go back online and module firmware updated.
If you have no internet, go to mofi internal modem
Then click on advanced signal status
If you see low power mode, you need to do the module update again as it will not work if the module is in low power mode.